Sports Injury &
Therapeutic Treatment
Treatment can be given for sports injuries and a wide range of medical conditions. Richard is well experienced in treating athletes from numerous sports and has 3 years experience in handling doctor referrals for staff of a major motor manufacturer
Richard is a registered service provider for people with WPA Medical Insurance Cover.
Sports massage and therapeutic massage are also available.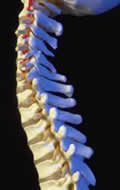 Sports Injury Treatment
Soft Tissue Injuries

Treatment of muscle strains, ligament sprains and joint injuries.

Electrotherapy

Ultrasound and interferential

Gait Analysis

On site treadmill for gait analysis

Taping and Strapping

Taping and strapping for injury prevention, support and treatment

Sports Massage

Full or upper/lower body massage for pre and post sporting events.
Therapeutic Treatment
Strains and sprains
Postural alignment/muscle balance
Back conditions
Arthritis
Injuries from falls, road traffic accidents etc.
Therapeutic massage